Robert Parker's Wine Advocate: 2014 Vintage reviews
2014 Arterberry Maresh Maresh Vineyard Pinot noir 95 points
Read here
---
Robert Parker's Wine Advocate: 2012 Vintage Reviews
2012 Arterberry Maresh Maresh Vineyard Pinot noir 93 points
The 2012 Pinot Noir Maresh Vineyard comes from vines planted in 1970, 1972, 1974 and 1978, therefore some of the oldest in the Willamette Valley (65% and 35% Pommard and Wadenswil clone respectively). Jim Maresh described it as the "prettiest Pinot I work with." Matured for 22 months in used barrel, the bouquet is very well defined and intense with darker fruit than the Juliard: blackberry, fig, smoke and Provençal herbs, especially wild fennel. The palate is sweet, pure and intense on the entry with animated red and black fruit interlaced with rosemary and sage notes. I love the focus here, the personality encased in this Pinot Noir. This is pulled out from the top drawer, a superb Pinot that should age without too much trouble over the next decade, though it will need a year or two in bottle just to shave off those rough edges. Around 600 cases produced.
2012 Arterberry Maresh Maresh Vineyard Chardonnay 93 points
The 2012 Chardonnay Maresh Vineyard comes from vines planted in 1983 from 108 clones that Jim Maresh raved about when I tasted the wine. The vines here face directly east and get the morning sun, picked around October 1 and matured for two years in six- or seven-year barrels. The bouquet is quite complex, with dried honey, lanolin, dried apricot and smoky hints that become more accentuated with time, later brioche and marzipan joining the fray. The palate is medium-bodied, vibrant on the entry, with intense dried honey and spice notes, mellifluous in texture with great poise and penetration toward the long Burgundy-inspired finish. Excellent.
2012 Arterberry Maresh Chardonnay 91 points
The 2012 Chardonnay includes some purchased fruit from the Coastal Range, a vineyard at 1,400 feet that is apparently "in the middle of nowhere," where the fruit ripens only once every four years. It contains some fruit from the Weber vineyard, plus Dijon clones from Maresh. Basket-pressed to retain solids, it spend 26 months in used barrel and was bottled unfiltered. It has a very poised bouquet with flint and smoke infusing the lime flower and citrus lemon aromas. The palate is well balanced with fine acidity, slightly waxy in texture with tropical tones coming through on the finish, touches of candied orange peel lingering on the aftertaste. Excellent.
2012 Arterberry Maresh Juliard Vineyard Pinot noir 92 points
The 2012 Pinot Noir Juliard Vineyard lies right above the Weber Vineyard, though it is very different in profile: much more rugged and tends to produce earthier and more savory wines. The vines were planted in 1977 and 1988 and contain what is known as the "Upright Clone." There is some stem addition here to create a little chewiness in the wine and it includes just one new Sirugue barrel (even though Jim remarked that they tend to leak). The bouquet is very complex with a mixture of red and black fruit, Italian cured meat, dried blood and brown spices. The palate is medium-bodied with firm tannin, savory on the entry, with hints of tobacco and wild fennel. This is a feral, untamed Oregon Pinot Noir surfeit with character and charm. My only minor quibble being that it does not quite have the persistence that other vintages might have. Only 200 cases produced.
2012 Arterberry Maresh Weber Vineyard Pinot noir 89 points
The 2012 Pinot Noir Weber Vineyard is a site owned by Jim Maresh's godmother. It sits a little lower than other vineyard sites, the vines planted in 1983 by Arthur Weber are entirely Pommard clone, which is Jim's favorite clone. Farmed by Andy Humphry, one of the prominent Dundee Hills vineyard managers, it was cropped around October 5 at 3 tons per acre. It was matured for about 20 months in used barrels. It offers a fragrant bouquet with ebullient red berry fruit, cumin and rosemary, hints of peppermint and wild fennel becoming accentuated with time. The palate is medium-bodied with a mixture of red and black fruit on the entry. Good acidity here, fruit-forward, although not as complex or as energetic as Jim Maresh's other two Pinot Noir 2012s, it offers attractive bacon fat and white and black pepper notes on the finish. Enjoy this over the next 4 or 5 years.
[/text_output][/container][container][custom_headline type="center" level="h3″ looks_like="h3″ accent="true"]
Robert Parker's Wine Advocate on Arterberry Maresh
[/custom_headline][text_output]
"Young Thug," which I guess is a more suitable nom de plume for a gangsta rapper than "Jeffrey Williams," has composed such eloquently titled songs as "2 Bitches" and "Stoner." Heard of him? No, nor had I until I visited Arterberry Maresh up in the the Dundee Hills and asked what kind of music might Jim Maresh fancy listening to while drinking one of its wines? Next minute, Young Thug was blaring out from Jim's mobile phone so that I could get a flavor of this rapper's oeuvre. I won't report the lyrics here. They do use one or two naughty words that would look a bit out of place in a Wine Advocate report.
Jim Maresh, when he is not listening to gangsta rap at ear-splitting volume, makes quite wonderful Pinot Noir from the vineyard that bears his family's name. Jim's a bit of a live wire: fixing you eyeball-to-eyeball in conversation so that you absorb every word. Our conversation began with him telling me how he was inspired by the Cameron winery, literally across the road, which gave him a good foundation in winemaking, as well as of course his grandparents Jim and Loie and his mother, Martha Maresh. He told me that he was inspired by the Chardonnays of Burgundy vigneron Paul Pernot, so I asked him about his own in 2012…
"The Chardonnay in 2012 was looser and had a more spindle-like cluster formation," he told me. "It was not like a 2004 vintage. I could get 1.1 or 1.2 tons per acre. They are going to age forever. The pH's are low. I was looking at 3.1 or 3.2 pH and the free sulfur was extremely low – I had never seen that before. I could go to bottle and achieve high molecular sulfur."
And the Pinot Noir?
"In 2012, the Pinot Noir was so clean. I hardly needed to spray at all. I just pick grapes at the right time. I don't go round waiting for flavor to develop. You're not getting more flavor, just different flavor. My palate is in the minority. I enjoy the 2012s, however, I love wine in the 12 percent range, so for me personally, many of the 2012s are too warm. Then 2013 was a disaster for me. The rain that hit us was ridiculous and I'll be selling off a bunch of Dundee Hills wine directly. Then again, I have 2014 that I rate over 2012. I don't do acidification and chaptalization. I've always just worked with the grapes that show up at the winery door. I don't know how to add acid or sugar. I just know how to take grapes and turn it into wine."
Jim's is a limited portfolio compared to others, restricting himself to just estate-grown berries – Chardonnay and Pinot Noir. What he might lack in quantity is compensated in quality, aided not just by the terroir and Jim's skill, but also the age of the vines that represent some of the oldest in Oregon. The Maresh Vineyard Pinot Noir 2013 is so damn pretty on the nose that it brings to mind some of the great wines of the Côte de Nuits, the extended use of oak marrying the tensile fruit with the wood seamlessly. Jim's wines were balanced, not lacking in fruit, but prioritize intensity and precision over power. All I can say is the thug-like tendencies at Maresh are restricted to the winemaker's taste in music rather than his wines.[/text_output][/container][container][custom_headline type="center" level="h3″ looks_like="h3″ accent="true"]
Oregon Wine Industry Honors
Jim & Loie Maresh with Founders Award
[/custom_headline][text_output]News Release
Dundee, Ore. – February 24 , 2015 –  The Oregon Wine Board (OWB) gave its highest honors to the state's wine industry leaders on Feb. 24 at the annual Oregon Wine Industry Awards Dinner. The Founders Award was given to Jim and Loie Maresh of Maresh Red Hills Vineyard in the Dundee Hills. The honorees were nominated by their peers for their extraordinary contributions to the Oregon wine industry.
"The Oregon wine industry has been shaped by the individual commitment of passionate members of our community," said Ellen Brittan, chairwoman of the Oregon Wine Board. "We are proud and excited to recognize these outstanding individuals whose devotion to Oregon wine and the incredible energy they dedicate to its advancement, has contributed so much to the
growing success of Oregon wine on the world stage."
The Founders Award honors people whose long time work in and for the industry has positively affected the direction and accomplishments of Oregon wine, and whose personal efforts have helped foster cooperation among growers and winemakers. Jim and Loie Maresh are legendary Oregon wine founders who planted one of the earliest vineyards in the state and have been instrumental in securing Oregon's long-term wine success.
In 1970, Jim and Loie planted what is today the fifth oldest vineyard in the state of Oregon, and the first on Worden Hill Road in the heart of the famed Dundee Hills AVA. It was pioneering vintner Dick Erath who convinced Jim and Loie that their 27-acre farm—now the 140-acre Maresh Red Hills Vineyard—would be ideal for Pinot noir and other grapes. Though not trained as farmers, Jim and Loie Maresh enthusiastically embraced viticulture and quickly became leaders in helping create and grow Oregon's young wine industry.
It was with the help of Loie and Jim's efforts in the courts and the state legislature throughout the 1970s and 1980s, supported by the small wine community that banded around him, that vital land use regulations were passed to preserve hillside land for agriculture. To this day, the Weber-Maresh Amendment is a frequently cited regulation that protects agricultural lands for generations to come. At the same time, wines made by winemakers like Fred Arterberry and others sourcing fruit from Maresh Red Hills Vineyard were some of the first Willamette Valley Pinot noirs to gain top scores from national wine critics, including a 98-point rating from Robert M. Parker Jr.'s The Wine Advocate for the 1985 Maresh Vineyard Pinot noir.
About the Oregon Wine Board:
The Oregon Wine Board is a semi-independent Oregon state agency managing marketing,
research, and education initiatives that support and advance the Oregon wine and wine grape
industry. The Board works on behalf of all Oregon wineries and independent growers
throughout the state's diverse winegrowing regions.
#Â Â  Â #Â Â  Â #
Contact Information 
Jean Yates, Oregon Wine Marketing, (541) 602-1720, jean@oregon-wine.com
Martha Maresh, Powell Hill Winery (503) 537-1098 martha@mareshredbarn.com[/text_output][/container][container][custom_headline type="center" level="h3″ looks_like="h3″ accent="true"]
Oregon Wine "Geezers"
Celebrate Tasting Room in Historic Barn
[/custom_headline][text_output]News Release
Dundee, Ore. – April 25, 2014 –  Oregon wine industry pioneers celebrate the opening of the historic Maresh Red Barn Tasting Room at Maresh Red Hills Vineyard in Dundee.
Maresh Vineyard founder Jim Maresh was joined by Oregon wine pioneers Dick Erath, Vivian Weber, and Gary Fuqua recently to toast the new venture and spend the first dollar. They call themselves the "geezers of the Dundee Hills", but in reality they are wine industry pioneers who planted some of the first and most significant  vineyards in Oregon. These longtime farmers, neighbors, and friends have lived near the Red Barn for more than half a century, in the heart of the Dundee Hills AVA.
The Red Barn Tasting Room, originally opened by the Maresh family in 1979, offered wines under the Maresh Red Barn label. The new Red Barn features the Pinot Noir and Chardonnay of Arterberry Maresh and Powell Hill wineries made by winemaker, Jim Arterberry Maresh.
The Maresh family have farmed on Worden Hill Road since 1959 when Jim and Loie Maresh purchased land and moved their young family to the country. First planted in 1970, 65-acre Maresh Vineyard is the fifth oldest in Oregon and oldest on Worden Hill Road. Today daughter Martha and her husband Steven Mikami manage the vineyard and own Powell Hill Winery, also located on the property.
"Maresh Vineyard is the benchmark by which the Dundee Hills AVA flavor profile is defined," said Dick Erath. The barn has been located on the property for x years. Now a new generation
Maresh Red Barn Tasting Room is located within the Maresh Red Hills Vineyard at 9325 NE Worden Hill Road, Dundee Oregon. It is open April through November, Friday through Sunday noon  to 5 p.m.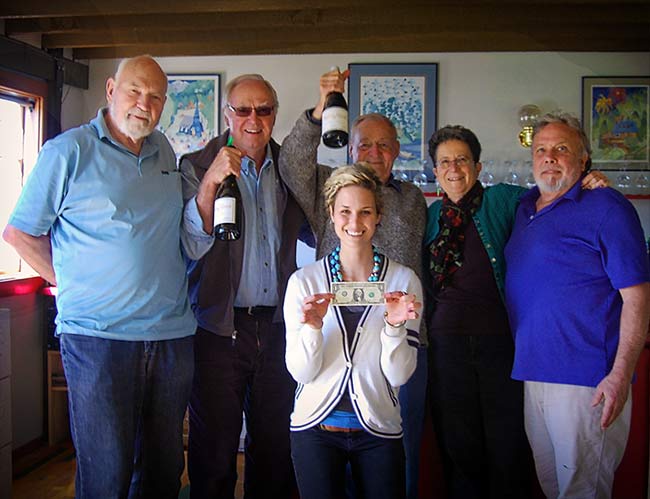 #Â Â  Â #Â Â  Â #
Contact Information 
Jean Yates, Oregon Wine Marketing, (541) 602-1720, jean@oregon-wine.com
Martha Maresh, Powell Hill Winery (503) 537-1098 martha@mareshredbarn.com[/text_output][/container][/vc_column][/vc_row][vc_row][vc_column width="1/1″][/vc_column][/vc_row]