"Only a handful of Pinot Noirs in my experience have delivered greater beauty or more striking singularity." 98 Points.
– Robert Parker's Wine Advocate on 1985 Maresh Vineyard Pinot noir
READ OUR LATEST WINE ADVOCATE REVIEWS
READ OUR FALL WINE CLUB NEWSLETTER
Tasting Room Hours: FALL 2019 hours: Friday, Saturday & Sunday – Noon-4pm
Maresh Red Barn Tasting Room
9325 NE Worden Hill Road Dundee OR
email: winery@mareshredbarn.com
phone: (503) 537-1098
Wine Spectator Review January, 2019

---
At Arterberry Maresh's Red Barn Tasting Room you'll drink wines from the fifth oldest vineyard in the state and the oldest on Worden Hill Road. Visit the big red barn at the top of the hill and meet three generations of the Maresh family: Jim Senior, daughter Martha, her husband Steve, and their winemaker son Jim. Our tasting room menu includes Maresh Vineyard Pinot noirs from Martha and Steve's Powell Hill Winery, and Jim's highly rated, hard to get Arterberry Maresh Pinot noirs and Chardonnays. At right, Steve, Jim, and Martha in front of their new winery, nestled in the center of the Maresh Vineyard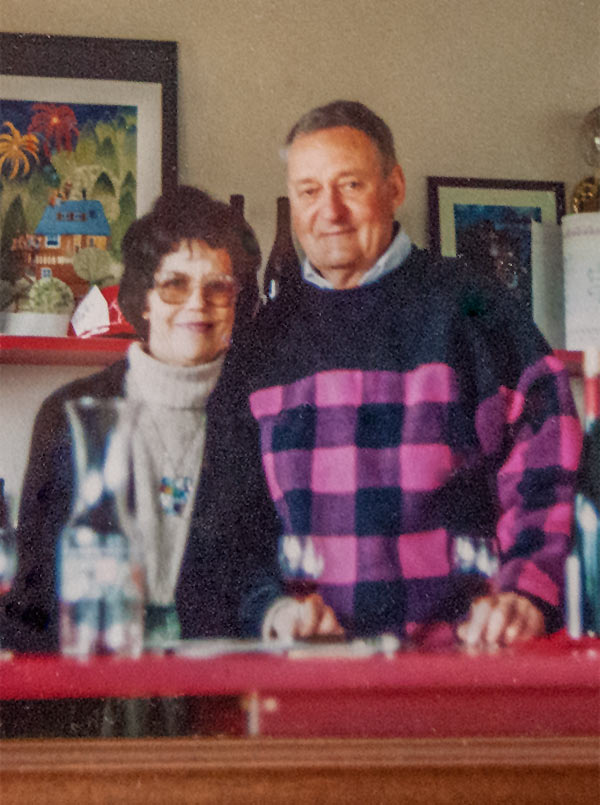 ---
Jim and Loie Maresh opened the original Red Barn Tasting Room in 1979. While drinking a $20 bottle of pinot they suddenly realized that the winery had paid them only $2 for the grapes to make it. Voila! Rather than sell grapes for cash, they decided to make wine, and the Red Barn Tasting Room was born. The greatest reward was not monetary, but rather the many enduring friendships formed over the ten years when Jim and Loie ran the tasting room. Read more about Jim Maresh and the story of Maresh Vineyard At left, Jim and Loie in the tasting room, 1989
First priority access to wines
Two shipments, six bottles each
Shipped April and November
10% off all wine purchases
Free ground shipping
Complimentary tastings for you and two guests
Winemaker notes in shipment
---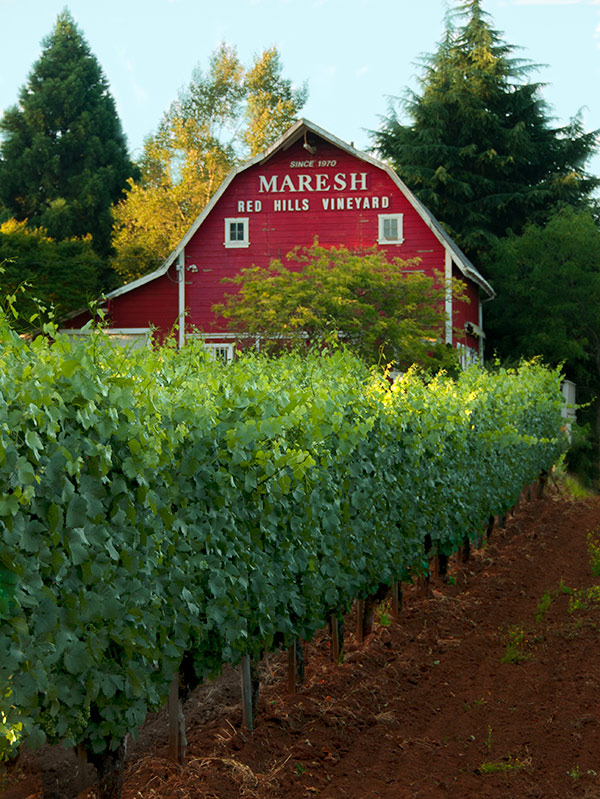 ---
Jim Maresh is the winemaker for both his parents' Powell Hill and his own Arterberry Maresh wineries. At 30, he is already an accomplished professional whose old vine Pinot noir and Chardonnay garner top scores from wine experts. Jim grew up on the top of Powell Hill, his family home nestled in the center of their Maresh Vineyard. Over the years he learned to love the process of farming wine grapes and became fascinated with wine making. He left university and began a series of jobs at neighbor wineries including Cameron and Thomas. He made his first vintage of Arterberry Maresh when he was in his early '20s. Jim's wines are made in the family's small winery from some of the oldest Pinot noir and Chardonnay vines in the country. Maresh Vineyard is non-irrigated and farmed organically. He makes wine exclusively from vineyards in the Dundee Hills AVA. At left, Jim Maresh photo: Doreen Wynja
---
At right, great room of the retreat
"…Maresh makes very good Pinot Noir and arguably one of the best Chardonnays in the world. Yes, I did just say this is one of the best Chardonnays in the world!"
– Oregon Wine Newsletter, July 2014, KLWines
Map & Directions to Maresh Red Barn Tasting Room
Directions: From Portland, 99W south to Dundee, turn right at Worden Hill Road. From the south, 99W north to Dundee, turn left on Worden Hill Road.
On Worden Hill go 2.0 miles, the Red Barn is on left at top of hill.