Arterberry Maresh Pinot Noir
Weber Vineyard
If Oregon vineyards were classified like Burgundy Maresh would certainly be a Grand Cru. The philosophy at Arterberry Maresh adheres to old vine Dundee Hills fruit, alcohols under 14% (preferably mid 12 to lower 13%), new oak kept under 15% on Pinot, no pumping, no fining, no filtering, no acidulating, no watering. The goal is purity of fruit and naturality expressing terroir with elegance and ageworthiness.
Somm Select says: "Cellar wizard Jim Arterberry Maresh, a third-generation Dundee Hills grower, has raised the bar to a seemingly insurmountable height, producing nuanced, aromatically complex, and wonderfully pure Pinot Noirs that everyone can afford."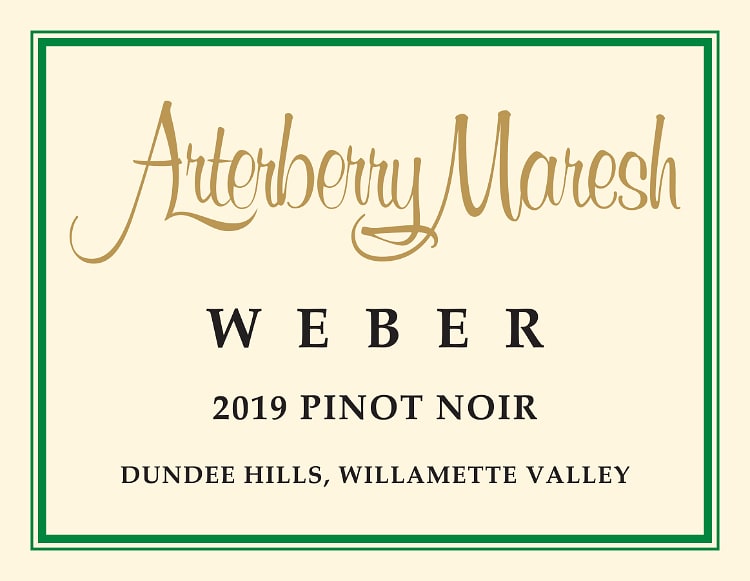 2019 Vintage
Wine Advocate 98 rating
Medium ruby, the aromatics of the 2019 Pinot Noir Weber Vineyard are off the charts! Dark fruits are streaked with violet, burnt orange, botanicals and game meats on the nose, and the palate is equally concentrated and layered. It offers waves of dark fruits, an abundance of silty tannins and incredible freshness that causes the flavors to burst with energy and call you in for another sip. This singular, stunning expression is "a freak of nature," explains proprietor Jim Maresh, who only recently revived the single-vineyard cuvée from the Weber vineyard, 3.5 acres planted in 1983. Maresh says that unforeseen circumstances led to very, very low yields this vintage (less than 0.5 tons per acre), which seems reflected in the intensity of this wine. It should be very long-lived in the cellar.