---
Fall 2023 Pinot Noir Club
---
---
Welcome to our fall 2023 Pinot Noir Club newsletter!
You may have noticed a change – we've renamed this club the Pinot Noir Club and add a new Chardonnay Club. You can see the Fall Chardonnay Club wines here. From now on, this club will be exclusively Pinot Noir (except for the occasional secret bottlings). We hope you enjoy our Fall Wine Club offering as much as we did making them!

---
Wines
---
---
2 bottles each
Arterberry Maresh 2022 Dundee Hills Pinot – $35/each = $70
Arterberry Maresh 2022 Old Vines Pinot – $62/each = $124
1 bottle each
Arterberry Maresh 2018 Maresh Vineyard Pinot – $69
Arterberry Maresh 2021 Weber Vineyard Pinot – $79
wine total $342 – 10% discount $34 = $308
Plus shipping – $35
Total – $343
---
---
THE 2022 VINTAGE
A very cool spring drastically delayed the pace of the growing season. It was clear these slow ripening old vines would require a very sunny October and we were lucky as October 2022 turned out to be the warmest on record. Near perfect hang time conditions allowed flavor to accumulate much faster than sugar. While the 2021 vintage set beautiful loose clusters, the larger cluster size in 2022 helped stretch the hang time deep into the season and take on the elusive expressions of late October. A rare and special growing season we may see once a decade.
Arterberry Maresh 2022 Dundee Hills Pinot – $35
New Release
A classic Dundee Hills drinking beautifully now. Red plum, cinnamon, raspberry liqueur. Seamless red nectar hits a wall of fine tannin. Has the high toned concentration of fruit leather at under 13%.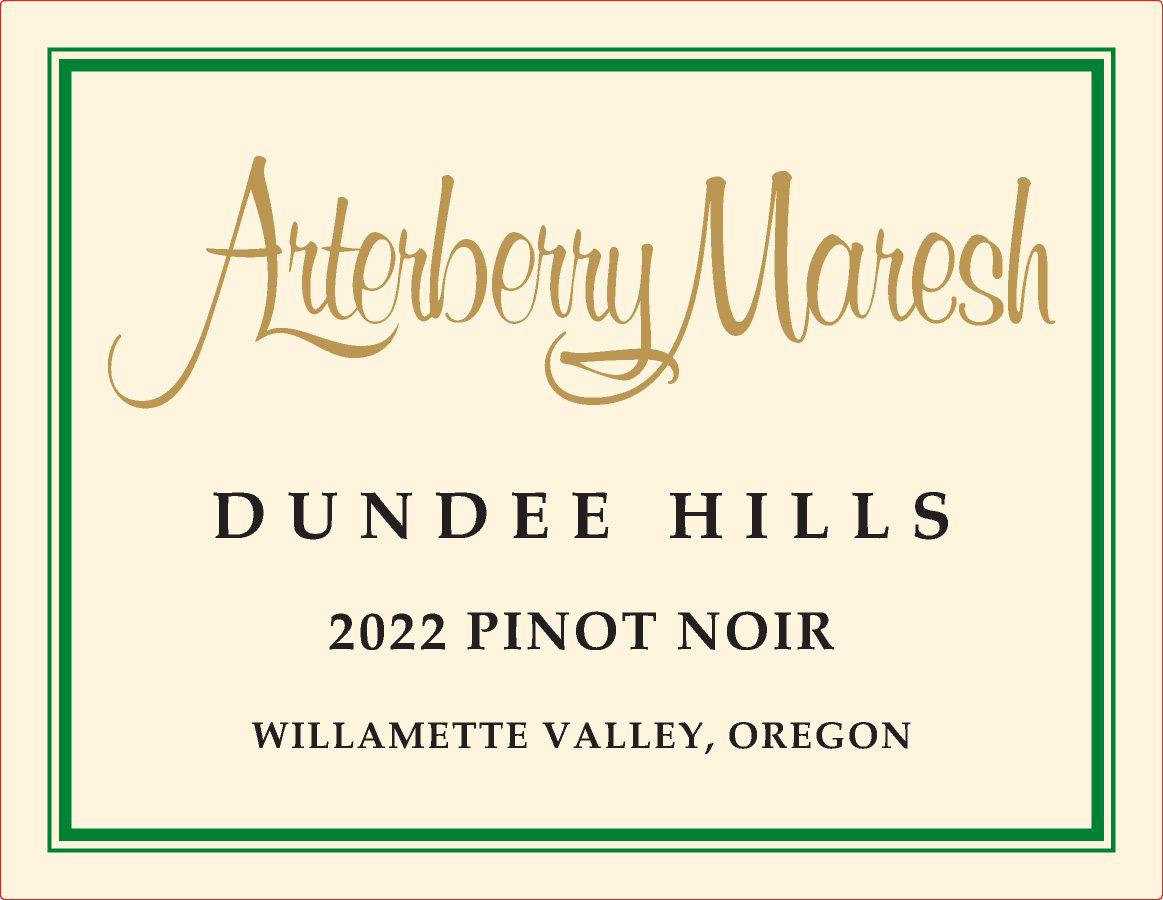 Arterberry Maresh Old Vines Pinot Noir 2022 $62
New Release
A blend Maresh planted in 1970 and Weber planted in 1983. More floral, and a bit darker than the Dundee Hills with vibrant long fruit. Pomegranate molasses, cherry and citrus rind.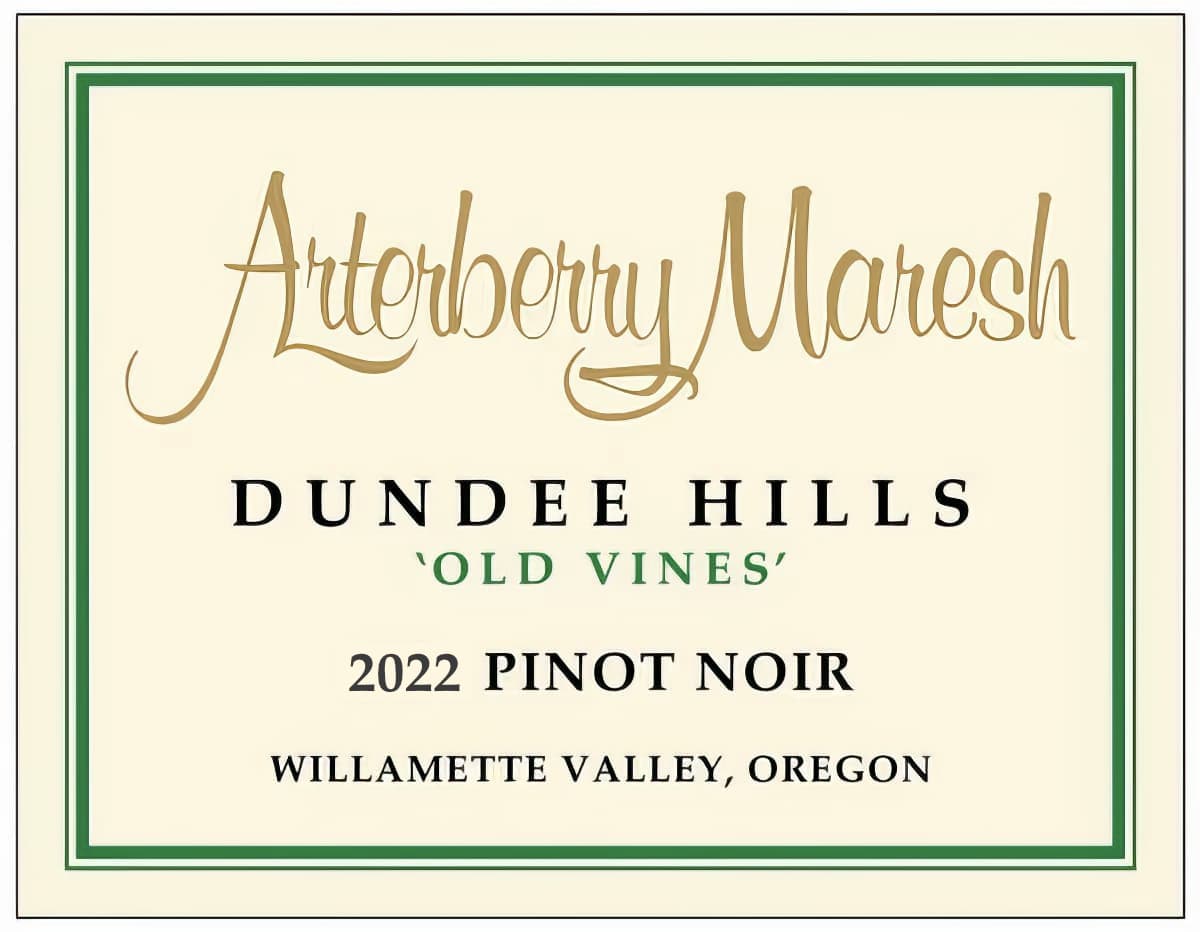 Arterberry Maresh 2018 Maresh Vineyard Pinot Noir $69
Wine Advocate 95+ Points
The 2018 Pinot Noir Maresh Vineyard is an incredible wine. It opens slowly to an arresting perfume of dusty earth, dried rose petals, tea leaves, licorice and amaro with a wealth of bright red berry fruit at the core. The palate is elegant, supple and juicy, with an expansive fan of layered, spicy flavors and a very long finish. It's hard to resist now, but it will have more to offer with time in bottle.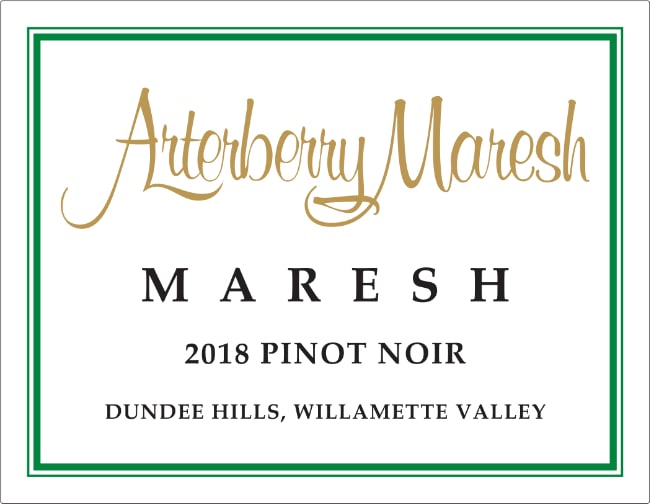 Weber Vineyard 2021 $79
WINE ADVOCATE 98+ POINTS
The 2021 Pinot Noir Maresh Vineyard is an arresting wine that grows in bottle over several days, offering singular expression, purity and a touch of magic. Medium ruby, the nose is very complex and offers something new with each return to the glass. A deep core of pomegranate and cranberry sauce blossoms to orange peel, tea leaves, mossy bark and lilac with an array of amaro-like undertones. The palate is medium-bodied and has tremendously concentrated flavors for its harmonious, velvety frame (this sits at only 12.8% alcohol). Layered, dynamic and very long, it stands out as one of the best expressions of Willamette Valley Pinot Noir I've ever had the pleasure of tasting.