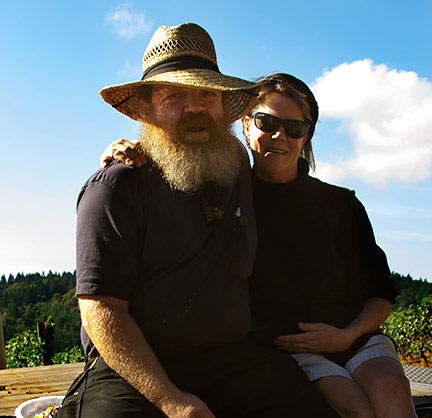 Hello, again, Jean! It was very good to see you yesterday (Thursday) as you were walking up through Block 9 of our vineyards as Andy (Humprey) and Steven were loading up empty bins from the Wednesday pick of 12 tons of Pinot noir from the vineyards in the hills. Great time for you to take some pictures of Andy as he and Steven load the big truck of empty picking pins for the next vineyard and we're getting ready for the next truck load of grapes from Weber Vineyards.
at right, Andy and Martha
Bringing in some other blocks of Jimmy's single designated vines today and tomorrow – Juliard (wow! lovely fruit that I didn't want to crush but wanted it only to wear as natural earrings!) and Gerhts tomorrow. That should be almost our finished, final, finesse, until…
We start harvesting Maresh Vineyard. My pride, my joy, and the hard work of Steven, myself and Jimmy's winemaking with our help. Months ago I wrote you that 2014 will be a great year and that intuition from Mom's spirit has started to come to fruition. Literally.
These clusters of grapes show great, grape colors – both the Pinot noir and the Chardonnay – and though there might be a few days of rain showers this mid-week that will only help to bring up the flavors of these Red Hills through their deep roots to flavor these old vines with the old orchards of cherries and prunes of our farm. The blackberries are just a bonus of flavor surrounding the vineyards with their own essence.
Yes, it is to me terroir, but I have lived on this farm since 1959 and I know that the flavors of our old vines reflect the cherries, prunes and blackberries that I grew up with – and taste now – between all the vineyard blocks as I check them for brix and flavors – and those vines hold those flavors of those old orchards.
Honestly….from a daughter and farmer since growing up here in 1959. And very proud of my farm hands. Many hugs – mmm
below, Steven on the tractor moving Weber fruit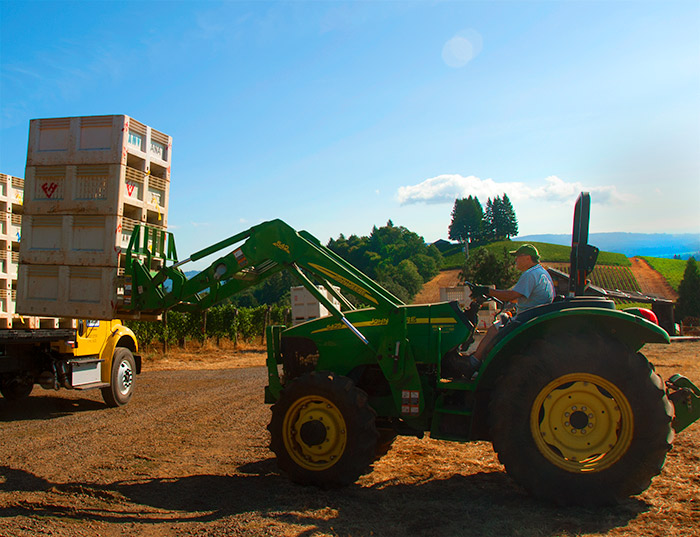 below, Andy Humphrey pauses for lunch
Don't drop it!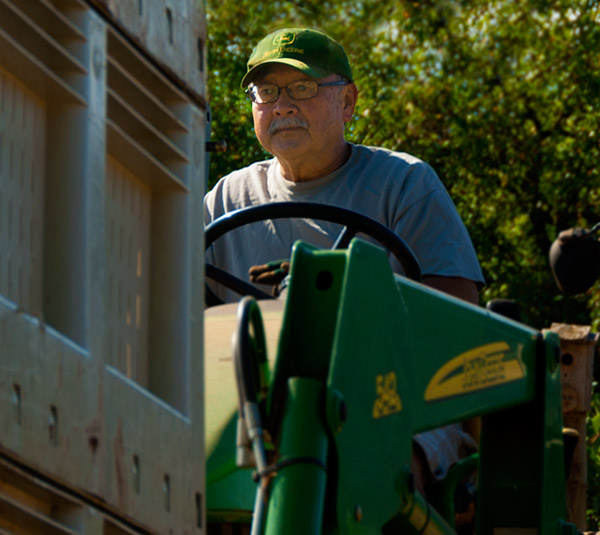 delightful colors and shapes at Maresh Vineyard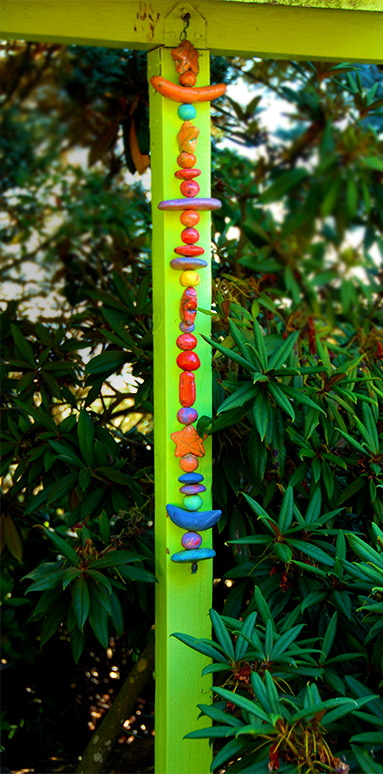 photo credit Jean Yates, Oregon Wine Marketing