Hi Jean – just letting you know that yesterday we finished putting the very last barrel of Pinot noir into our small winery and it's full of fragrant barrels from this bountiful, beautiful harvest of 2014. 158 barrels of Pinot noir, 30 barrels of Chardonnay and Martha's White (the blend from the odd seven rows of Pinot Gris, Sauvignon Blanc, Riesling and Gewurztraminer that I helped plant in 1983. The winery committed to it this year couldn't take so much fruit so Powell Hill Winery did and it's perking along so well in the neutral barrels and one new stainless steel barrel that I think we'll finish it at 1 percent residual sugar and let it's fruit shine. (For the Red Barn, only).
But…the harvest, crush, barreling down and putting barrels into the winery is completed. This harvest was one of the easiest in 20 years with the sunny weather and luscious grapes; the winemaking went smoothly with good help – especially Beautiful Bertha, our new Europress that can handle 1.5 tons of whole clusters for the Chardonnay and Martha's White with a gentle press of 4.5 hours (and pressed Pinot a little less time) and free run Pinot went, well, freely into the barrels first for the premium, single-designated vineyard Pinot's of Jimmy's. Most of those days were working outside in sun, a little rain, and one day lots of rain…but every day finished with all of us happy and satisfied with the fruit, the juice, and our company. (Lots of home burritos, Abbey Pizza, teriyaki chicken and tacos helped, too!)
Putting the barrels into the winery had only one glitch: the forklift broke down. Instantly. With a full fermenter on it heading to the press then into the barrels and then into the winery. Not a pleasant afternoon at first but a few calls to the repairman and his visit within an hour we got news of a transmission problem. All became better when the next day at 12:30 a newly rented forklift came up the road from a great guy – Monte – who understood my distressed phone call that afternoon and by 12:30 the next day we had a new forklift and a big, blue truck that could bring this 5000-pound machine up our steep, gravel, muddy road (this was the day of the big rains!) so we were back to moving fermenting bins and full barrels of Pinot noir, again. And we were all happy, again.
So, now all the barrels are in the winery. Space is very, very limited – as one friend said this weekend "You have to be really skinny to get between these rows of racks of barrels" but all is good.
I end this summary with a tired smile. Amen to harvest 2014 and in two months we start the cycle of Harvest 2015 again. Pruning, shoot selection, cultivation, grape hoeing, trellis care… and the bottling of some 2013 and Martha's White of 2014.

It was with maternal satisfaction – for my vines and Jimmy – when he turned to me yesterday as the last barrel of Pinot went into the winery and said "Mom, Harvest 2014 is over." Take care, and hugs, Martha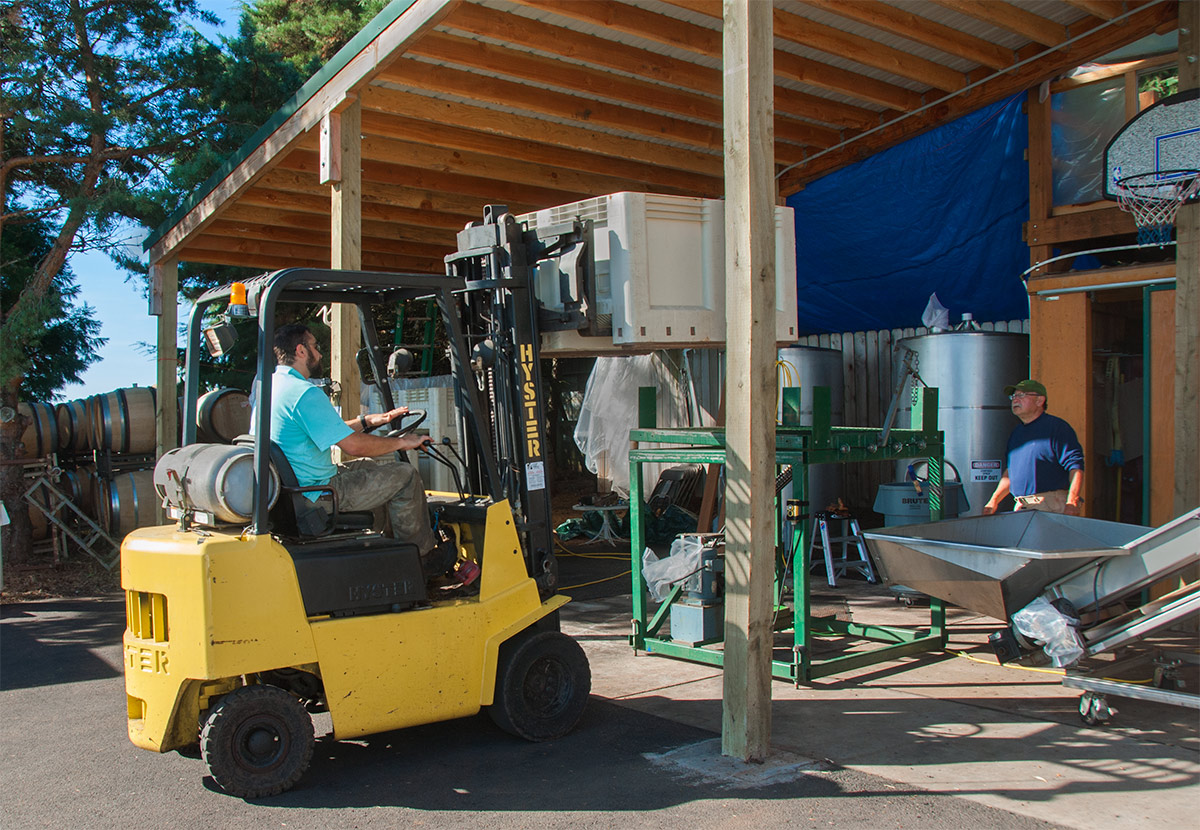 photos credit: Jean Yates, Oregon Wine Marketing